Tailored Morocco Tours
Welcome to the renewed and updated Tailored Morocco Tours, a Morocco Tour agency created and managed by a group of young Berbers from the South-East of Morocco. We have a couple of years of experience dealing with tourists from all over the world. Our main goal is to organize trails according to your wishes and share our culture, tradition, and civilization with you. Our expert native guides have extensive knowledge about Morocco and will help you discover the authentic customs, culture, diversity, and magic of our country.
Tailored Morocco Tours came to tourism from the field of education and real lived experiences as the second generation of nomads who settled in the villages around Ziz Valley. We belong to the indigenous Amazigh peoples (commonly known as Berbers) of the South East of Morocco. We have helped travelers and explorers from all walks of life discover the Sahara desert and its secrets for many years.
Tailored Morocco Tours is a socially responsible team that believes in reflexivity and reciprocity. Our approach to tourism is based on a combination of entrepreneurship, academic and indigenous methods of a tour designed to create authentic cultural and educational programs that are both enjoyable and memorable. We provide excellent services in Moroccan modern tourism but we choose to specialize in Morocco SAHARA desert Tour – our home – in the most authentic ways. Our team members are multilingual and talented individuals with a lot of experience in education, cross-cultural training, and academic research. We offer you the opportunity to do many activities during your trip to Morocco. Some of the activities that can be customized for you are: private and customize tours around Morocco, Morocco Sahara desert tour, Day trips and & desert tours from Marrakech, Camel treks, Morocco family trips, cooking class tours, imperial cities tours, honeymoon trips, off roads trips and tours from Fes, Marrakech Casablanca…
Tailored Morocco Tours choose your accommodations Riad / Hotel with cleaning service and prioritize the safety of our guests. You can contact our operators via email or phone for any kind of special needs – we are at your disposal to provide you with maximum assistance in developing a quick solution. You can check our website to find various offers and solutions for an easier way to plan your Morocco tour. Our site offers information on the chosen destinations. We invite you to join us in discovering authentic Morocco through the stories of its people. We offer well-thought travel plans with comfortable and unique accommodations that will help you make the best of your time with us. Please browse our programs and get in touch.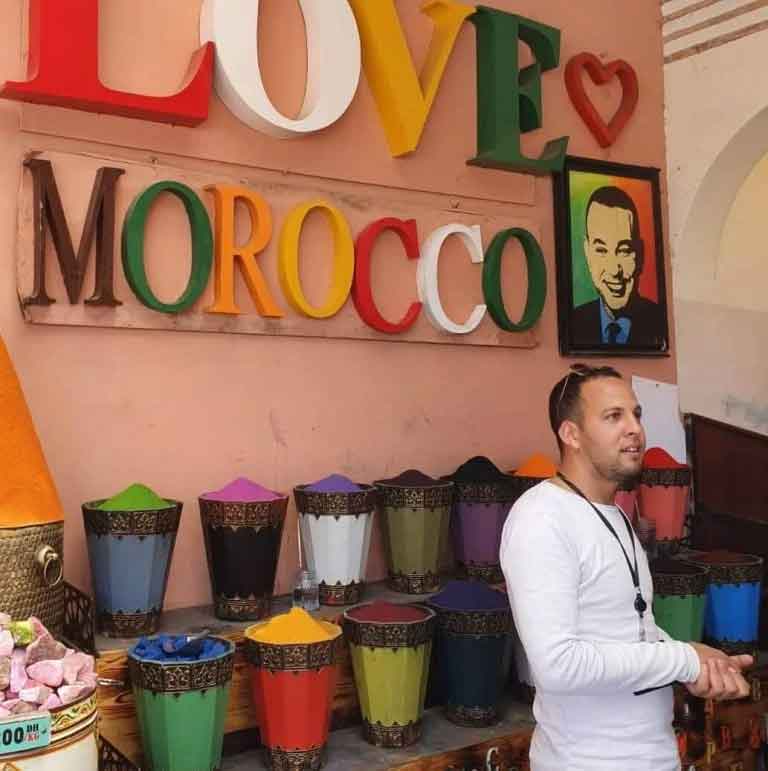 Mohamed a certified tour guide license no.2390
A Berber native from the desert in the southeast of Morocco, he was born and raised in a small village in the Morocco Sahara Desert. His family was nomads, but when he reached school age, they decided to settle in a small village in the Ziz Valley. He started guiding tourists in the desert when he was a little boy and, after his primary school finished, he moved to the nearest big town to continue his schooling. He got his baccalaureate degree then he moved to Meknes to the attended university. There he received his B.A. degree and later he became a licensed guide after two years of training.
He is certified as a tour guide by the Ministry of Tourism. After his training finished, he started as a tour guide in Morocco with clients from different nationalities for several years. Now, it's with great pleasure that he is the Manager of Tailored Morocco Tours.
Tailored Morocco Tours' interest is to help and share with tourists Morocco's Lifestyle, nomadic Berber life, culture, and traditional music. Tailored Morocco Tours will be happy to help you discover the most amazing places in Morocco. Looking to share and introduce our experiences, our homeland, and our daily life.
Experiences that allow you to enjoy the magical atmosphere of the Sahara desert, medinas, and souks of morocco, we provide Morocco tours that will permit you to :
explore the real depth of Morocco, full of peace and hospitality
customized Morocco Tours that will be suitable to your wishes and to your interest.
Tailored Tours around Morocco.
Luxury Tours
Hiking and Trekking in the Atlas Mountains and Desert Sahara.
Off-road Morocco Tours.
Morocco Camel ride tours.